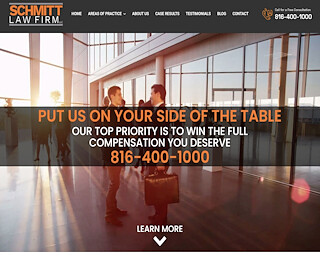 Tyler Whitham at Schmitt Law Firm is a preeminent car accident attorney in Kansas City with extensive experience, superior negotiation skills, and lots of trial experience. By connecting with all our clients on a personal level, Tyler takes complete care of the case's legal aspects while the victims focus on healing and recovering from their injuries and traumas. Here are several things to consider before hiring a Kansas City, MO, car accident attorney:
1. Understanding your personal responsibilities
Before you start looking for attorneys, make sure to seek the necessary medical care for your injuries. Follow your doctor's recommendations and treatment plan precisely, and do not fail to keep a complete record of all your medical bills. Hire a car accident attorney and update them on your treatment's progress regularly.
2. Experience matters, and past success counts
Choose a professional who handles car collision cases exclusively. You want to invest your time and money in an experienced lawyer to receive a favorable case outcome as soon as possible. Also, look for attorneys with an excellent track record in helping car accident victims recover the highest compensation.
3. The contingency fee structure
The best Kansas City car accident law firms work on a contingency basis, meaning you do not have to pay the attorney until they win the case for you. Personal injury attorneys usually charge between 30% and 40% from the settlement you receive as a fee.
4. Lawsuits aren't always necessary!
Over 95% of the car accident cases settle outside the court, and only rarely go to trial. Lawyers and claimants often try to avoid the trial because they are lengthy and hideously expensive. Your goal should be to hire the services of a Kansas City car accident law firm that can negotiate a reasonable settlement with the insurance company without letting the case go to court.
5. The knack for choosing the right attorney
Remember that not all personal injury attorneys specialize in car accident cases. Some injury lawyers take every claim that walks through their door, while a few other focus on fewer cases but provide personalized attention to each client. Hence, make sure to hire an attorney with plenty of experience handling cases similar to yours (in this case, car accident claims). Check with the attorney to find out if he/she will be personally handling your case and if you can easily access them via phone or email during business hours.
Besides, learn about the educational qualification, skill level, years of experience, trial experience, areas of specialization, and the approach they plan to handle your case. Hiring one of the best Kansas City car accident lawyers can improve the odds of recovering the maximum compensation.
Get in touch with Schmitt Law Firm to schedule a free consultation with our highly experienced KC personal injury lawyer. Call 816-400-1000 to speak to Tyler Whitham, the #1 car accident attorney in Kansas City. Our attorney can bring knowledge, skill, and years of experience into your case and fiercely negotiate to help you receive optimal compensation for your losses and injuries.
Car Accident Attorney Kansas City
Schmitt Law Firm, LLC
+1 816-400-1000
2600 Grand Boulevard Suite 380
Kansas City
MO
64108
View Larger Map
We welcome your comments!