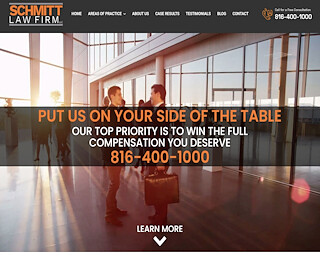 Schmitt Law Firm has helped thousands of victims seek justice and claim the rightful compensation for their injuries and losses. Our fatal car accident lawyer in Kansas City, Ben Schmitt, has over 25 years of legal experience, has been the first chair in numerous jury trials, and has an excellent track record.
How much will a wrongful death lawsuit cost?
One of the largest expenses in a wrongful death claim is your attorney's fees. Most attorneys work on a contingency fee basis, which means they do not get paid until you win your case.
The contingency fee approach relieves you from bearing the financial risk of bringing a wrongful death case, as you do not have to worry about meeting any costs until you recover the compensation. Once you receive your settlement, the expert will usually get a percentage (30 - 40%) of the damages as their fee.
How long can a wrongful death lawsuit or settlement take?
Typically, a wrongful death lawsuit involves civil actions, pleadings, discovery, pre-trial motions, settlement conferences, etc., before the claim goes to trial. On average, wrongful death lawsuits take around 2-4 years to settle. With a Kansas City, MO car accident attorney by your side, you can receive the settlement much faster.
What does a wrongful death attorney do?
The best Kansas City car accident lawyers can assist you by:
Filing a claim within the statute of limitation
Explaining the legal processes and assist you with the paperwork
Assessing and evaluating your case objectively and gathering evidence in support of your claim.
Furthermore, your attorney will focus on building a strong case in your favor while you take the time to heal from your losses.
How to choose a wrongful death lawyer
You want to look for attorneys at a leading Kansas City car accident law firm with plenty of experience handling cases similar to yours. Besides, choose someone with a commendable track record, unsurpassed negotiation skills, and lots of trial experience to maximize your chances of recovering the highest compensation.
Will I have to go to court If I bring a wrongful death lawsuit?
There is always a possibility that your case may proceed to court. However, most wrongful death claimants receive settlement outside of the court to avoid lengthy and expensive trials. If you don't want your case to reach trial, work with one of the best Kansas City car accident law firms to help you recover the highest settlement out of court.
How are wrongful death money damages divided between the attorney and family members?
You and your attorney will split the wrongful death damages in the percentages agreed-upon in the service contract. In most cases, your attorney will first take away a small share of the money to cover the costs before applying the percentage split on the settlement/compensation.
Contact Schmitt Law Firm at 816-400-1000 for a free consultation with an experienced KC personal injury lawyer. As the #1 fatal car accident lawyer in Kansas City, Ben Schmitt, possesses in-depth knowledge of the state laws and can help you prove the other driver's negligence. To discuss your case's prospects with Ben Schmitt, call us today!
Fatal Car Accident Lawyer Kansas City
Schmitt Law Firm, LLC
+1 816-400-1000
2600 Grand Boulevard Suite 380
Kansas City
MO
64108
View Larger Map
We welcome your comments!