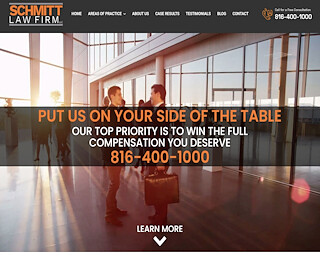 Nick Templin at Schmitt Law Firm is a highly sought-after Kansas City car accident lawyer with a commendable track record, in-depth knowledge of the Missouri laws, and impeccable negotiation skills. Our attorney empathizes with clients, offers moral support and legal guidance, and helps them recover maximum compensation for their losses and damages.
The Missouri car accident statute of limitations
In Missouri, the statute of limitations allows the injured person up to five years from the accident's date to file a lawsuit. If the car accident results in someone's death, his/her family member or representative has up to three years to bring on a wrongful death claim.
It is important to leave yourself a fair amount of time before filing a claim to enjoy more leverage during settlement negotiations. Speak to an experienced attorney to learn about this rule's rare exceptions.
Is Missouri a comparative fault state?
If you face injuries in a Missouri car accident and decide to take your case to court, the jury and judge will examine the evidence to determine if you share any part of the blame. Missouri follows a "pure comparative fault," meaning the number of damages you can recover in an accident lawsuit can reduce by the percentage of your level of fault in causing the collision.
If your total damages amount to $100,000, and you share 10 percent responsibility for the crash, you will get $90,000 ($100,000 - 10% percent). Missouri follows the comparative fault rule even if you are more responsible for the collision than the other party. Remember that this rule becomes the guiding factor when a car insurance claims adjuster evaluates your case. Since there is no empirical formula to allocate fault, you must hire a skilled Kansas City, MO, car accident attorney to negotiate with the claims adjuster or persuade the judge or jury.
What makes us the best car accident law firm?
Some of the best Kansas City car accident lawyers work for our firm, making us the #1 attorney firm in Missouri. Here are the top qualities that set us apart from other law firms:
Our services – As a top-rated Kansas City car accident law firm, we help victims understand the legal processes, assist them in filling out paperwork, calculating damages, and negotiating with the claims adjuster. We also gather evidence, interview witnesses, and offer moral support to victims while they focus on recovering from their injuries and healing mentally, physically, and emotionally.
Reputation – Ranked among the best Kansas City car accident law firms, we hold a reputation for a professional approach, successful track record, and commendable negotiation skills.
Areas of practice – Our areas of practice include personal injury, wrongful death, vehicle accidents, product liability, workers comp, medical malpractice, and insurance disputes. We handle all types of civil litigations and ensure maximum compensation for victims.
Speak to one of us at Schmitt Law Firm at 816-400-1000 to schedule an appointment with Nick Templin, the leading Kansas City car accident lawyer.
Kansas City Car Accident Lawyer
Schmitt Law Firm, LLC
+1 816-400-1000
2600 Grand Boulevard Suite 380
Kansas City
MO
64108
View Larger Map
We welcome your comments!