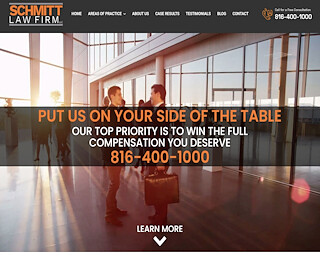 Are you searching for the best motor vehicle accident attorney in Kansas City? Schmitt Law Firm is a reputed legal establishment with a skilled team of attorneys who have a commendable track record and trial experience. We understand the physical, emotional, and financial repercussions of a motor vehicle accident better than anyone else. As the #1 attorney firm for motor vehicle accidents, we have helped victims recover the maximum compensation for their injuries within the shortest time.
Pros vs. cons of hiring a motor vehicle accident attorney
Hiring one of the best Kansas City car accident lawyers can relieve you from the stress of dealing with the legal aspects of your accident. A Kansas City, MO, car accident attorney can help you understand the Missouri laws and educate you on what to expect in your litigation and how to proceed.
The only con of hiring an attorney is the cost, which can be 30% – 40% of your settlement amount. But again, you will only pay the attorney after recovering your compensation, which does not place you under any financial strain.
How do I maximize my car accident settlement?
Preserve all evidence and follow your doctor's recommendation and treatment plan carefully. Seek medical help after the accident and make sure to go to a preeminent Kansas City car accident law firm to assess the accurate value of your claim.
Do not jump at the very first offer made by the insurance adjuster, or you could leave with the lowest settlement amount. More importantly, hire an attorney from one of the best Kansas City car accident law firms to negotiate the maximum compensation for your injuries and damages.
When to hire a motor vehicle accident lawyer vs. when not to
While some car accident cases demand attorney services, some are simple enough that they do not need a lawyer's assistance. Here is a guide on when to hire an attorney vs. when not to:
Instances when you must hire an attorney:
You are in desperate need of the claim amount
The insurance company denies your claim or disagrees to pay you reasonable compensation for your losses and injuries
You suffer serious injuries or disabilities with significant medical bills or expect to incur future medical bills.
The injured person is a minor
You have disputes with the at-fault party in determining liability
It has been more than a year since the accident but still not close to receiving a settlement from the at-fault party.
The details of your accident are intricate and require expert investigation or testimonies.
Instances when you do not need an attorney:
Simple, minor, or clear-cut claims don't require an attorney's services.
Cases involving low medical bills and losses or the at-fault party acknowledges negligence or liability on their part.
The insurance adjuster agrees to offer you a reasonable settlement.
Call 816-400-1000 to schedule your free consultation with the #1 motor vehicle accident attorney in Kansas City. Nick Templin at Schmitt Law Firm is a compassionate, astute, and experienced attorney with an impeccable track record in helping victims seek the compensation they deserve to get on with life. Have you been injured because of another driver's negligence? You can recover your rightful compensation; all it takes is one call!
Motor Vehicle Accident Attorney Kansas City
Schmitt Law Firm, LLC
+1 816-400-1000
2600 Grand Boulevard Suite 380
Kansas City
MO
64108
View Larger Map
We welcome your comments!