Kansas City Motorcycle Accident Lawyers Will Prove Negligence and Help You Get Full Recovery
We Fight to Get the Maximum Compensation For You
Motorcycle Accident Lawyer Kansas City
Motorcycle accident victims sometimes choose to handle an insurance claim independently, but seeking compensation for damages is not easy without an experienced motorcycle accident attorney in your corner. Insurance companies sometimes push ethical boundaries and take advantage of accident victims with predatory lowball offers. A Kansas City motorcycle accident lawyer who has experience with Kansas City car accident claims can handle the details of your claim and negotiate with the insurance carrier while you focus on healing and rehabilitation.
Severe injuries sometimes leave motorcycle accident victims permanently disabled, so they cannot return to their job. In other cases, injuries are so severe that motorcycle accident victims must miss weeks or months of work, causing significant economic stress for victims and their families. Victims can easily calculate their economic losses, but quantifying how injuries impact a victim's life often requires an experienced accident injury attorney.
The skilled Kansas City motorcycle accident lawyers at Schmitt Law Firm are here to help you through the difficult aftermath of an accident and fight so you have the best chance to receive maximum compensation for economic and non-economic losses you have incurred due to your motorcycle accident. Contact us today online for a free consultation or call (816) 400-1000 to discuss the details of your motorcycle accident claim and strategize the best path forward for your situation.
Practice Areas
Kansas City Motorcycle Accident Lawyer Ben Schmitt Advocates for Injured Bikers
Many personal injury attorneys handle motorcycle accident claims, but not all lawyers have the passion or dedication to vigorously represent bikers who have suffered injuries. Not only does Kansas City motorcycle accident lawyer Ben Schmitt have more than 25 years of experience advocating for injured accident victims, but he is an avid motorcycle racing fan, owns several motorcycles, and races. Ben Schmitt and his skilled legal team are committed to helping fellow bikers get the maximum compensation they deserve for their motorcycle accident injury claims.
Recent case results in motorcycle accident injury claims include:
$4.2 million jury verdict
$1.25 million settlement
$300,000 settlement
$285,000 settlement
$200,000 settlement
$100,000 settlement
These serve as examples of motorcycle accident claim outcomes but do not guarantee specific financial results in your case. However, our motorcycle accident lawyers serving Kansas City have the experience, resources, and passion to aggressively pursue the best outcome possible for your circumstances.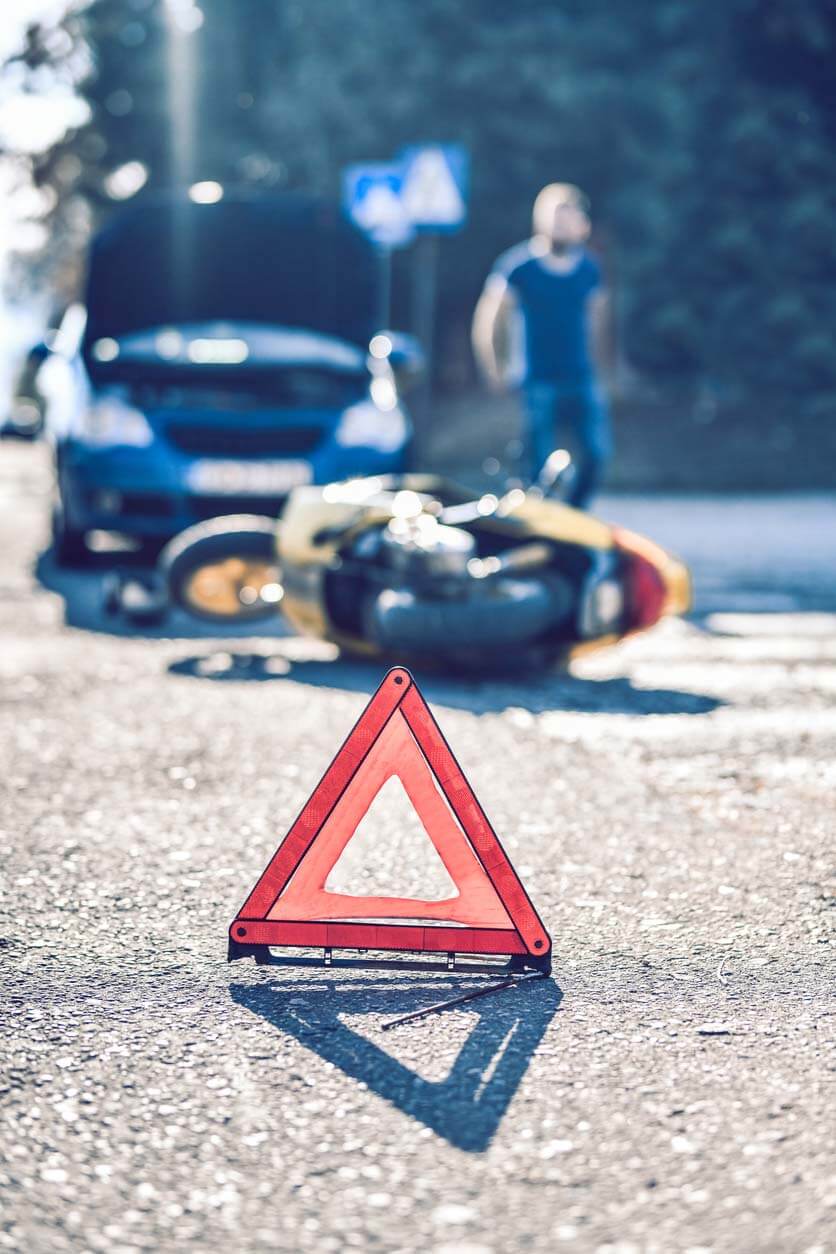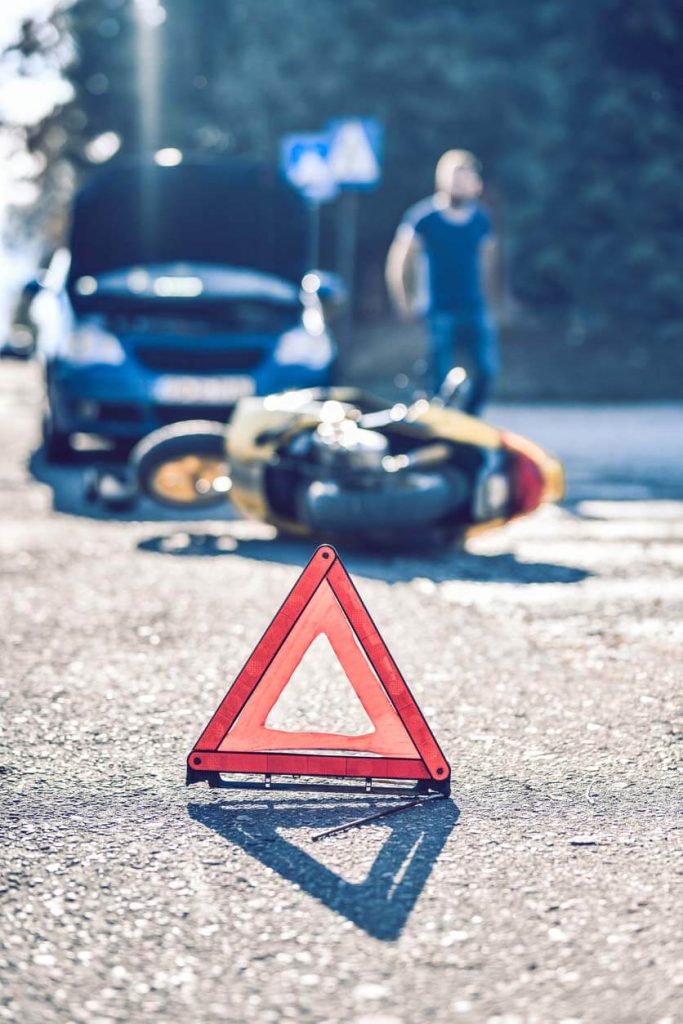 Negligent and careless drivers are extremely dangerous to motorcyclists. "I didn't see the motorcycle" is not an excuse, and we will not allow your injuries to be minimized. Our motorcycle accident lawyers in Kansas City will not allow any opposing party to shift blame for the accident to you. If we take on your case, we independently investigate your accident and establish the facts.
When a negligent driver is responsible for your motorcycle crash injuries and bike damage, you deserve full and fair compensation. You also deserve fair treatment by the law and the insurance company that will ultimately be responsible for paying for your past, present, and future losses, including:
Medical expenses
Rehabilitation
Lost wages and loss of earning power
Pain and suffering
Disability and long-term care
Property damage
Other losses
Founding attorney Ben Schmitt is an avid motorcycle rider and race sponsor. At Schmitt Law Firm, LLC, we are committed motorcycle accident lawyers in Kansas City. Call us for a FREE consultation at 816-400-1000.
Our Kansas City Motorcycle Accident Lawyers' Experience and Trial Success Benefit You
With more than 75 years of combined legal experience, our attorneys have obtained significant six- and seven-figure results in both Missouri and Kansas civil courts. We are revered as top Kansas City motorcycle accident lawyers and understand what is at stake in your case.
Seeking Compensation for Motorcycle Accident Injuries Helps Accident Victims Move Forward
Money cannot undo the property damage, physical pain, and emotional stress you face after a motorcycle accident. Making matters worse, you know that everything you are going through results from someone else's poor choices, and if not for their negligence, you would not be suffering. However, seeking compensation with skilled Kansas City motorcycle accident lawyers is your only recourse against the party who caused your motorcycle accident. While compensation cannot turn back the clock, it can provide the following solace and aid:
You can have the financial means to pay for the medical treatment you need for your injuries.
You can have the financial means to pay your medical bills and avoid financial disaster from lost wages.
You can feel a sense of closure by taking legal action.
You can hold the at-fault party accountable for their actions and likely prevent future bikers from falling victim to the same fate.
You can restore your sense of justice, especially in the case of gross negligence.
Steps After a Missouri Motorcycle Accident
Whether you are involved in a motorcycle accident in Jackson County, Cass County, Clay County, Ray County, Platte County, or anywhere else near Kansas City, you must take the following steps after the accident. Someone else can help if you are physically unable. Taking these steps will protect your rights to seek compensation for your injuries:
Collect contact information for all drivers, passengers, and eyewitnesses, including name, address, phone, email, and driver's license numbers.
Record license plate numbers, registration information, and insurance information for the vehicle that hit your motorcycle.
Take a picture of the accident scene, including property damage to your bike and the other vehicle(s) and information that shows the accident's location. Also, use your phone to take pictures of any injuries you sustained during the accident.
Call 911 to ensure that emergency services and law enforcement come to the accident scene.
If conscious, give your statement to the responding police officer. Only provide basic information about your motorcycle accident. Obtain a copy of the official crash report after giving it a week or two for the officer to complete the report.
Take special care not to admit fault or apologize. Although you may only be employing good manners, other parties might try to twist your intentions and claim you admitted fault for your motorcycle accident.
Make no comments about your physical pain or condition, and seek medical treatment as soon as possible. If you deny medical treatment at the scene or refuse an ambulance ride to the nearest emergency room, you still need to get checked out by a doctor.
Only offer minimal information to any insurance adjusters, and do not let them record you. Insurance companies train their adjusters to elicit statements from accident victims that give them grounds to deny or devalue a claim.
Never sign any authorizations, releases, or waivers for the at-fault driver's car insurance carrier. You could jeopardize your ability to seek compensation for damages.
Contact an experienced Kansas City motorcycle accident lawyer to guide you through the claims process and protect your rights.
Proving Fault in a Kansas City Motorcycle Accident Claim
Whether your motorcycle accident occurred in Parkville, Independence, Liberty, St. Joseph, Lee's Summit, or another town or city in the Greater Kansas City area, you must prove fault to win your motorcycle accident claim. In legal terms, fault refers to negligence and has four main elements. Your Kansas City motorcycle accident lawyer must prove these elements for you to receive compensation from a settlement or for a court to rule in your favor. Here is a broad overview of each element as they relate to motorcycle accidents:
Duty of Care
Drivers of passenger vehicles, motorcyclists, and others who share the road have an automatic duty of care towards others on the road, making it the least contested element of negligence in a personal injury claim. If you are on your motorcycle, other drivers have a legal obligation to follow the rules of the road and not commit acts that could put you in danger of an accident and injuries.
Breach of Duty
A court only considers a driver negligent in a motorcycle accident if they have breached their duty towards a biker. Breaches often include illegal acts, like drinking and driving, excessive speeding, or ignoring traffic signals and stop signs. However, not all negligent driving behaviors explicitly break the law. For example, a driver might be distracted when talking to an occupant or daydreaming about something. These driving behaviors typically fall under the umbrella of inattentive driving and often qualify as a breach of duty when they lead to motorcycle accident injuries.
Harm
You must suffer some physical, emotional, or financial harm for a court to find the at-fault driver financially liable for your motorcycle accident injuries. Unfortunately, harm is often an element in motorcycle accidents. Bikers who walk away from an accident unscathed are fortunate. It's far more likely for a biker to suffer serious injuries because of the open nature of a motorcycle and little protection between them and other cars or the road. Severe injuries often lead to higher medical expenses and steeper economic loss.
Causation
The final element of proving negligence in a motorcycle accident requires showing that the at-fault driver's breach of duty led to the harm a motorcycle accident victim suffered. Specifically, the driver should have known their behavior would lead to the accident. Causation is typically the most contested element of negligence in traffic accidents. It's common for the other side to shift blame to the accident victims or another party to avoid financial liability.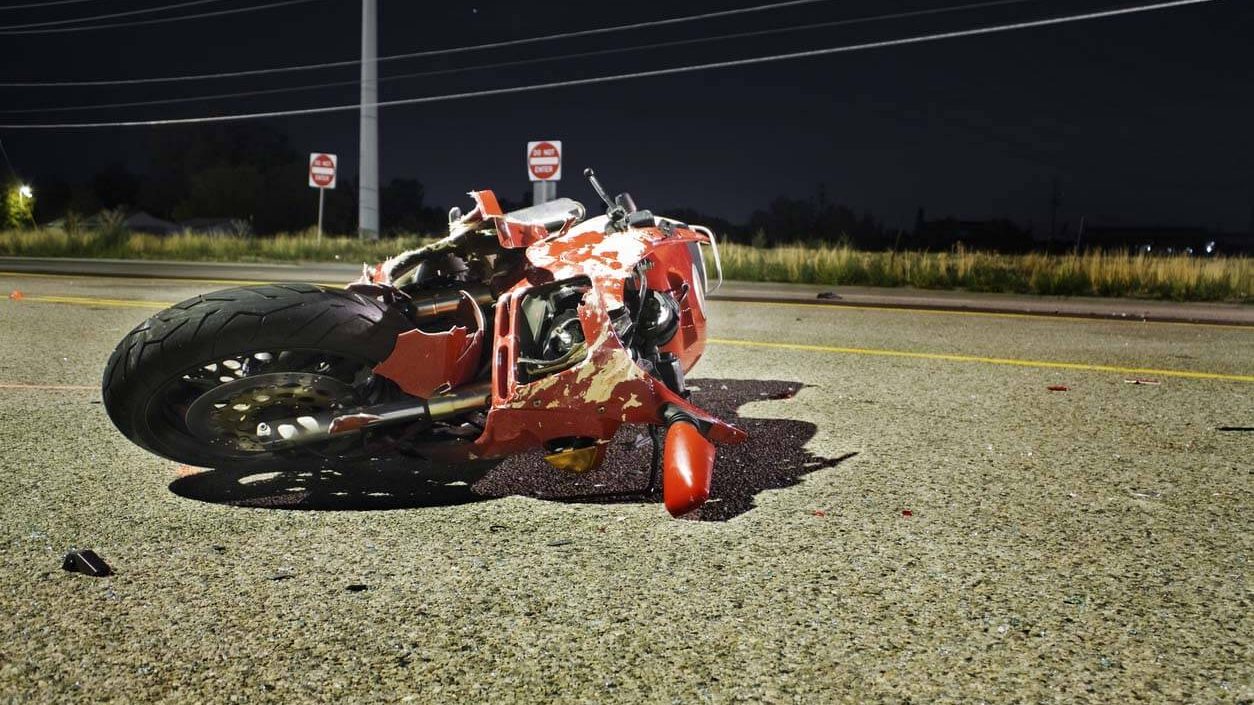 Kansas City Motorcycle Accident Lawyer FAQs
If you have recently suffered motorcycle accident injuries in the Greater Kansas City area, it's in your best interest to contact an experienced motorcycle accident lawyer as soon as possible. Until you have the opportunity to consult with a Kansas City motorcycle accident lawyer, the following frequently asked questions about motorcycle accidents in Kansas City provide some preliminary information.
How Much Time Do I Have to Bring a Lawsuit After a Missouri Motorcycle Accident?
Missouri has a forgiving statute of limitations, or time limit, for personal injury lawsuits. You have five years from your motorcycle accident injuries to bring a lawsuit against the at-fault driver. However, it's best to take action as soon as possible. Witnesses move, and their statements become foggy as time passes, so contact a Kansas City motorcycle accident lawyer to start the claims process.
Can I Afford a Lawyer to Represent Me in My Motorcycle Accident Claim?
Yes. When you hire a Kansas City motorcycle accident lawyer, you do not pay an upfront retainer. Instead, you enter a contingent fee agreement with your lawyer. This means your attorney deducts attorney fees and other representation costs from any compensation you receive from an insurance settlement or jury award. You do not typically have to pay money out-of-pocket.
Will I Have to Go to Court to Testify for My Kansas City Motorcycle Accident Claim?
It's unlikely, but you should be prepared for the possibility. Many traffic accident claims, including those involving motorcycles, settle before going to trial because both sides have an incentive to avoid the expense of litigation. If negotiations fail, your Kansas City motorcycle accident lawyer will negotiate with the insurance company and may have to file a lawsuit. Sometimes legal counsel and a lawsuit inspire insurance companies to take a claim more seriously, so negotiations might begin again. If both sides cannot agree, you will likely have to go to court to testify in the county where the accident occurred. For example, if your accident occurred in Blue Springs or Grandview, you will have to go to court in Jackson County.
Should I Accept a Settlement Offer from the At-Fault Driver's Insurance Carrier?
You should never accept a settlement offer without first consulting with an experienced motorcycle accident lawyer in Kansas City. When insurance companies are confident their policyholders have been negligent, they try to avoid large payouts by offering early settlement offers. These offers are typically far less than an accident victim deserves for their injuries. Plus, your Kansas City motorcycle accident lawyer can likely negotiate a better outcome for you.
How Much Money Can I Get for My Kansas City Motorcycle Accident Injuries?
It's impossible to predict a specific value or financial outcome for your claim. Each case is different and has underlying facts that add to or detract from its value. Some factors that impact the value of motorcycle accident claims include:
Extent of Injuries. More severe injuries typically result in a higher value claim because they take longer to heal and cause more pain and suffering.
Long-term prognosis. Motorcycle accident victims who suffer permanent disabilities typically receive more compensation if they prevail in their claims than those who fully recover.
Non-economic impact. Those who suffer more physical pain and emotional stress because of their injuries typically have a higher value claim. Damage to relationships from injuries can also impact the value of a motorcycle accident claim.
Percentage fault. Accident victims who contribute to the cause of their accident could receive less compensation for their injuries.
Injured in a Motorcycle Accident? Contact Our Motorcycle Accident Lawyers in Kansas City Today
At Schmitt Law Firm, we understand the gravity of serious motorcycle accident injuries and are here to help you during this difficult time. Not only is Brett Schmitt an avid motorcycle enthusiast, but he and his legal team have the skills, passion, and dedication to help you get the compensation you deserve for your motorcycle accident injuries. Contact us online or at (816) 400-1000 for a free consultation with our Kansas City motorcycle accident lawyers to discuss your accident and injuries.
We collaborate with medical experts and accident reconstructionists to evaluate the extent of your injuries and the cause of your crash. You have the same road rights as all other drivers on the road, and you deserve even greater protection. Our motorcycle accident lawyers serving Kansas City will assert your rights to fair treatment in the eyes of the law and vigorously pursue the maximum compensation you deserve.
Insurance disputes are our forte. We will not allow the value of your injury claim to be diminished. Our Kansas City motorcycle accident lawyers will help you get justice and hold the responsible parties accountable for your full damages and losses.
Speak with a Kansas City Motorcycle Accident Lawyer about Your Full Legal Options
We offer free consultations and will handle all your case's up-front legal costs. It is imperative that you get a motorcycle accident lawyer in Kansas City involved as soon as possible before evidence is lost and insurance representatives convince you to settle for less than you deserve.
Please call our motorcycle accident lawyers in Kansas City at 816-400-1000 or email us to speak with one of our lawyers.