Workplace injuries can occur in the blink of an eye, leaving you physically hurt and unsure of what steps to take next. When you suffer an injury at work, it is crucial to know your rights, understand the legal process, and know what to do when you have a workplace injury to protect your interests.
With Schmitt Law Firm, the leading personal injury lawyers in Kansas City, you can be confident in navigating the complexities of workplace injury claims. Contact our team today to schedule a consultation.
Immediate Steps to Take Following a Workplace Injury
Report the incident! Notify your supervisor or manager about the injury as soon as possible. Make sure to provide a written report detailing the circumstances of the injury, as this will be an essential piece of evidence in your claim.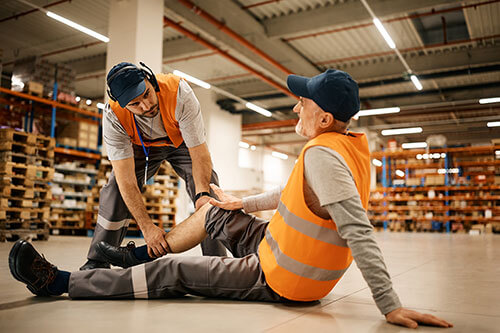 After you have a workplace injury, you should seek medical attention. Prioritize your health and visit a doctor for proper diagnosis and treatment. Be sure to keep all medical records and receipts, as these will be crucial in proving the extent of your injuries and expenses.
Document everything. Take photos of the accident scene, your injuries, and any equipment or conditions that contributed to the injury. Additionally, obtain contact information from any witnesses present during the accident.
Understanding Workers' Compensation
In Kansas City, workers' compensation is a no-fault insurance system designed to cover medical expenses and lost wages for injured employees. Most employers are required to carry this insurance, and employees are generally eligible for benefits regardless of who is at fault for the accident.
However, navigating the workers' compensation system can be complicated, and you may encounter various obstacles when trying to secure the benefits you deserve. That's where the expertise of Schmitt Law Firm comes in, as we can help you overcome any challenges and obtain the compensation you're entitled to.


When to Consult a Personal Injury Lawyer
After you're hurt, you may be scrambling, wondering what to do when you have a workplace injury and when to contact a lawyer. There are several situations in which it is crucial to consult a personal injury lawyer after a workplace injury:
If your claim is denied or disputed by your employer or their insurance company.
If you have a pre-existing condition that complicates your claim.
If your injury resulted from a third party's negligence, such as a contractor or equipment manufacturer.
If your injury is severe or results in permanent disability.
In any of these circumstances, an experienced personal injury lawyer like those at Schmitt Law Firm can help you navigate the legal process, ensuring your rights are protected and you receive the compensation you deserve.
Trust Schmitt Law Firm to Protect Your Rights and Secure Your Compensation
When you have a workplace injury, taking the right steps to protect your rights and secure the compensation you deserve is critical. Trust Schmitt Law Firm, the leading personal injury lawyers in Kansas City, to guide you through the legal process and ensure the best possible outcome for your case.
Our personal injury lawyers possess extensive experience and a proven track record of success in handling workplace injury cases. We understand the complexities of workers' compensation and personal injury law and are committed to advocating for your rights. Our team will work tirelessly to investigate your case, gather evidence, and negotiate with insurance companies on your behalf. Contact us today to schedule a free consultation, and let us help you get back on the path to recovery.