"Is slip and fall a personal injury?"
That's a question many people find themselves asking after experiencing a tumble. Understanding how a slip and fall works is crucial to answering this question and seeking justice and compensation if you or a loved one experienced a traumatic accident.
For expert legal assistance, consider contacting Schmitt Law Firm's team of skilled personal injury attorneys with experience in slip and fall cases.
What is a Slip and Fall?
To answer if slip and fall is a personal injury, knowing what constitutes a slip and fall is essential. This type of accident occurs when someone loses their footing and falls to the ground, often because of external factors. These accidents can take place anywhere – public and private spaces alike, including sidewalks, parks, office buildings, construction sites, and more.
[Related: How are Damages Calculated in Personal Injury Cases]
Causes of Slip and Fall Accidents
When understanding whether a slip and fall is a personal injury, it is important to identify what causes these incidents. Several factors can cause slip and fall incidents. Some of the common ones include, but are not limited to: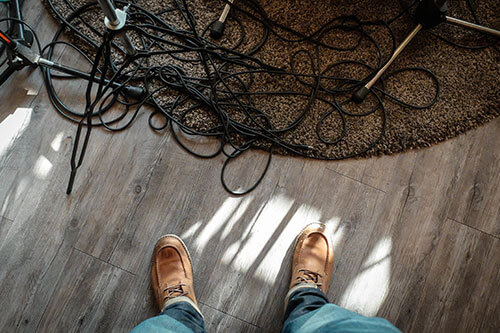 Cluttered common areas and torn carpeting
Ice or snow in driveways, parking lots, or walkways
Poor lighting
Uneven or broken sidewalks or other walkways
Wet or slippery floors due to spills, leaks, or tracked rain, snow, or ice in buildings
Knowing what causes each individual accident is crucial in answering and understanding if a slip and fall is a personal injury.
Possible Injuries from Slip and Fall Accidents
The repercussions of a slip and fall can vary widely, ranging from minor injuries to severe trauma or even death. Possible injuries from slip and fall accidents include:
Broken bones
Puncture wounds
Internal bleeding
Head and traumatic brain injuries
Spinal cord and nerve damage
Lacerations
Partial or total paralysis
Death
According to the Centers for Disease Control and Prevention (CDC), slip and fall accidents are the leading cause of death among adults 65 and older, the most common cause of injury at retail stores, and the leading cause of death in the construction industry. When answering the question, "Is slip and fall a personal injury?" we cannot understate or ignore the amount of pain and suffering it has caused many people and emphasize the importance of pursuing solutions to prevent such horrible accidents.
Do Slip and Fall Accidents Classify as a Personal Injury?
So, are slip and falls a personal injury case? The answer is a resounding yes. Slip and fall accidents fall under premises liability, a subcategory of personal injury law. When you enter your workplace, a public space, or someone's private property, you expect the conditions to be safe. When they are not, and you suffer a severe fall, the property owner is liable for those damages.
Property owners may be held responsible for any injuries if they know about a hazardous condition but fail to address it. In other words, personal injury law allows victims—or the loved ones of victims—to bring a claim against the negligent party and seek compensation for their losses.
What You Need to Know About Establishing a Slip and Fall Personal Injury Case
To successfully establish that a slip and fall is a personal injury case, the plaintiff must prove the property owner was negligent in sustaining a safe environment. Liability for these incidents is based on how and where a fall occurred and whether the property owner or operator owed a duty of care to the victim.
Business owners or operators of public property, like parks, schools, and commercial areas, must keep their premises clear of hazards or put up signs warning others of a slip and fall risk. They are also responsible for maintenance and repairs to prevent any hazards from occurring.
Evidence must be presented in court to argue that the negligent party breached their duty of care. Examples of evidence include:
Estimates of any losses or damages from a slip-and-fall accident
Interviews with witnesses that provide pertinent information about the incident
Medical records of treating injuries
Video or photographic proof of the accident
Obtaining evidence usually takes a lot of time to gather and sort through to make a compelling case that secures full compensation for your injuries. However, personal injury lawyers are experts at building a case that ensures the best possible outcome for you. Consider hiring a personal injury lawyer, like those from Schmitt Law Firm, to craft an impenetrable argument for your case with aggressive and competent representation.
[Related: Understanding Comparative Negligence in Missouri: How It Affects Your Personal Injury Case]


Contact Schmitt Law Firm for a Personal Injury Lawyer Who Will Secure Full Compensation for You
Is slip and fall a personal injury case that requires legal expertise? Absolutely. If you or a loved one has suffered from a slip and fall accident, don't hesitate to contact Schmitt Law Firm. Our personal injury attorneys secure full compensation for your losses, helping you navigate the complexities of slip and fall personal injury cases. Call us today at 816-400-1000 for experienced and skilled personal injury attorneys who fight for you.