When it comes to personal injury cases, one of the most critical phases is the discovery process. Understanding the ins and outs of discovery in personal injury cases is essential to your case, as it serves as the backbone of your case, providing you with the ammunition you need to make a compelling argument.
Learn what discovery in personal injury cases is, what it involves, and how a personal injury lawyer can help you. At Schmitt Law Firm, our expert team specializes in navigating this critical phase to build a robust case for our clients. If you need an expert personal injury lawyer to win the full compensation you deserve, call us at 816-400-1000.
What is Discovery in Personal Injury Cases, and Why is it Important?
Discovery in personal injury cases is a legal procedure that allows both plaintiffs and defendants to obtain pertinent information about the case from each other. The process requires all parties to be forthcoming about any details and evidence they know or have, as it allows both sides to prepare their arguments to either prove their case or establish their defense.
The information acquired during discovery in personal injury cases can include:
Details about the cause of the injury or accident
Eyewitness accounts and their identities
Expert testimony
Medical and forensic evidence
Statements from people who may have crucial information about the accident
The importance of discovery in personal injury cases cannot be overstated. Not only does it level the playing field by making all critical information available to both sides, but it also allows your lawyer to construct a solid argument regarding who is at fault. At Schmitt Law Firm, we have expert personal injury attorneys who are experienced and strategic in strengthening your case and aim to get you the compensation you deserve.
[Related: What is a Personal Injury Claim? A Comprehensive Guide to Personal Injury Claims in Missouri]


#1: Interrogatories
Interrogatories are written questions the other party must answer under oath. Documents sent to either party must be completed with appropriate answers within a designated time frame, such as 30 days. Interrogatories can include questions about witnesses, evidence to be used in the case, and opinions or statements about what happened. They serve as a way to get crucial facts straight from the source.
#2: Requests for Documents
This step involves asking the opposing party to produce specific documents pertinent to the case. To make this step of discovery in your personal injury case quick and less complicated, you should keep records of any evidence related to your claim, such as:
Medical bills and records
Photos of the accident scene
Photos of the injury or injuries
Receipts or invoices of property repairs, in the case of a car accident claim
Proof of loss of income
#3: Admissions of Fact
Admissions of fact are statements presented to the other party that ask them to admit or deny specific facts related to the case. This part of discovery in personal injury cases can help clarify which aspects are genuinely in dispute. Those served a request for admission must answer within 30 days; otherwise, their silence could be considered a deemed admission.
#4: Depositions
Depositions refer to the oral questioning of the plaintiff, defendant, and witnesses by the attorneys on a case and the opposing party, done under oath and usually recorded. They can be incredibly revealing and are a significant aspect of discovery in personal injury cases.
How Long Does Discovery in Personal Injury Cases Take?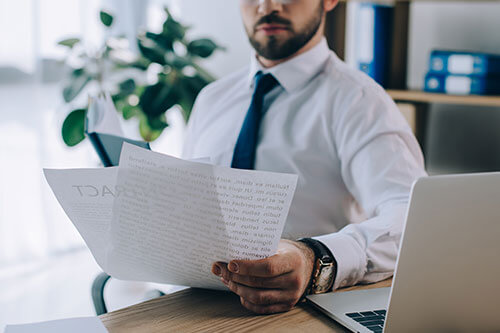 The duration of discovery in personal injury cases can vary significantly depending on the complexity of your case. It often takes several weeks or even months to complete. The process can be exhaustive, as attorneys sort through thousands of documents, wait for answers to interrogatories, and schedule depositions for multiple parties.
Additionally, there might be waiting periods to get records from professionals like doctors or the police. It is essential to have a competent lawyer who can efficiently handle the complexities of discovery in personal injury cases.
[Related: How to Hire a Personal Injury Lawyer – What You Need to Know]
Contact Schmitt Law Firm for Competent and Aggressive Representation
When it comes to discovery in personal injury cases, having an experienced legal team by your side can make all the difference. At Schmitt Law Firm, we pride ourselves on providing competent and aggressive representation for our clients throughout the discovery process. With our expertise, we navigate the complexities of discovery in personal injury cases, aiming to build the strongest case possible for you.
Contact Schmitt Law Firm today at 816-400-1000 and let us guide you through every step of the discovery process, helping you achieve the justice you deserve.