Hiring a personal injury lawyer can often be daunting. However, understanding how to hire a personal injury lawyer is important when seeking rightful compensation for a slip-and-fall, workplace injury, motor vehicle accident, or any other injuries you may have sustained. Schmitt Law Firm aims to shed light on how to hire a personal injury lawyer that's best for you and who can best serve you in your case and get you the results you want.
[Related: What to Do When You Have a Workplace Injury]
How to Hire a Personal Injury Lawyer: Licensed and Experienced Attorneys


When learning how to hire a personal injury lawyer, the first step is to look up your state's bar attorney directory. This directory is a valuable resource to verify if your potential lawyer is licensed and certified in the practice area relevant to your case.
In Kansas City, a personal injury law firm that stands out is Schmitt Law Firm, with a team of licensed and board-certified attorneys specializing in personal injury law. Our experienced team can secure maximum compensation. Hiring a personal injury lawyer with relevant experience guarantees a more seamless navigation through the complexities of personal injury cases.
How to Hire a Personal Injury Lawyer: Look at an Attorney's Discipline History
Researching a potential attorney's discipline history is vital when learning how to hire a personal injury lawyer. Hiring an attorney with a clean track record is key to ensuring the best possible outcome for your case because it indicates how well they defend their clients and if they have a history of violating the rules, which will only complicate your case.
Missouri's Office of Chief Disciplinary Counsel provides an accessible avenue to review an attorney's discipline history. This step of hiring a personal injury lawyer will give you confidence in your attorney's ability to handle your case professionally and ethically.
How to Hire a Personal Injury Lawyer: The Role of Online Reviews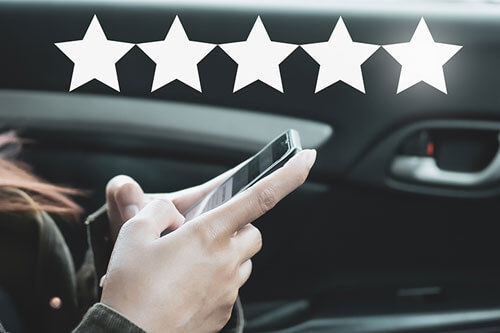 As you learn how to hire a personal injury lawyer, the value of online reviews cannot be understated. A quick Google search can reveal what past clients have said about a law firm. Moreover, attorney and law firm review sites, like LegalMatch and Avvo, provide a broader perspective on the attorney's reputation in the legal community.
These reviews and client testimonials offer critical insights into the attorney's ability to satisfactorily meet their clients' needs. If you are in the Kansas City area, consider Schmitt Law Firm. With a star rating of over 4.5 on Google, their reputation is a testament to their dedication and the high-quality services they provide.
How to Hire a Personal Injury Lawyer: Prepare for the Initial Consultation
Knowing how to hire a personal injury lawyer extends to the questions you ask during your initial consultation. A list of questions relating to your case can give you a better understanding of the attorney's suitability to handle your case.
Consider asking about:
Their experience with similar cases.
Negotiation history.
Their confidence in going to trial.
Contingency fees and costs, and whether you will be responsible for advanced costs if you lose the case.
Their thoughts on the likely outcome of your case.
The consultation is a good time to gauge the attorney's communication skills, responsiveness, and approach to your case. All these factors can significantly influence your decision when learning how to hire a personal injury lawyer.
[Related: What is a Personal Injury Claim? A Comprehensive Guide to Personal Injury Claims in Missouri]
Contact Schmitt Law Firm for Experienced Personal Injury Attorneys
Now that you know how to hire a personal injury lawyer, it's time to take the next step. Schmitt Law Firm has experienced and dedicated personal injury lawyers ready to help you secure the compensation you deserve.
Contact us today at 816-400-1000 for a free consultation, and let us guide you through your personal injury claim process. Understanding how to hire a personal injury is a critical first step on your journey toward justice, and we are here to assist you every step of the way.