Understanding your rights and options when you're injured, whether at work or elsewhere, is essential. With two different legal protections available for individuals – workers' comp and personal injury – it can be confusing what type of lawsuit will help you if you've suffered harm. This guide will help direct your next steps and lead you toward the most helpful legal assistance for your injury.
Schmitt Law Firm is here to help answer your questions about workers' comp vs. personal injury. Our professional and competent personal injury and workers' compensation lawyers also work tirelessly and provide aggressive representation during cases. We fight for you to recover the full compensation for your injuries. Contact us today at 816-400-1000.
[Related: What to Do When You Have a Workplace Injury]
Workers' Comp vs. Personal Injury: What Are They?


Workers' compensation is a type of insurance employers are required to have. It covers employees if they get injured or fall ill due to work. On the other hand, a personal injury case happens when a person suffers an injury due to someone else's negligence or intentional conduct.
Workers' Comp vs. Personal Injury: What is the Difference?
Understanding the difference between workers' comp vs. personal injury is crucial. Essentially, it boils down to fault requirements and the types of compensation.
In a personal injury case, you must prove the other party was at fault. Establishing fault is a complex process, but it usually involves the following:
The at-fault party had a duty to prevent or avoid causing a person harm.
The at-fault party breached this duty.
The at-fault party's breach directly caused an injury.
Injured persons suffered measurable losses.
Establishing fault also involves gathering evidence, such as visual evidence of the damage and losses, statements from witnesses who viewed the incident, and police records of their investigation of the accident.
In contrast, responsibility is irrelevant in worker's compensation claims. As an employee, you only need to demonstrate that your injury was work-related. Workers often receive compensation more quickly as they don't need to provide evidence of fault. However, the compensation in workers' comp cases is limited to specific areas like medical bills and lost wages. In personal injury cases, you may also recover damages for pain and suffering.
[Related: What is a Personal Injury Claim? A Comprehensive Guide to Personal Injury Claims in Missouri]
Workers' Comp vs. Personal Injury: What Injuries are Covered by Workers' Comp?
Workers' compensation covers a variety of injuries, from accidents while operating a machine to exposure to harmful conditions such as chemicals, radiation, or air pollution. It also covers illness or death caused on the job and repetitive strain injuries like neck and back pain or carpal tunnel syndrome.
If you're dealing with a workers' comp vs. personal injury situation, Schmitt Law Firm can help. Our experienced workers' comp lawyers will ensure you get the full compensation you deserve when injured.
Workers' Comp vs. Personal Injury: What Qualifies as a Personal Injury?
Another important distinction when comparing workers' comp and personal injury is what qualifies as a personal injury. Personal injury includes accidents, illnesses, or trauma that affect the physical or mental status of the person suffering the injuries. The most common personal injuries are:
Schmitt Law Firm's experienced, compassionate, and aggressive personal injury lawyers will defend your rights and ensure you get the compensation that is rightly yours. Contact our attorneys to maximize the value of your claim.
Workers' Comp vs. Personal Injury: Can You File a Personal Injury Claim After Being Hurt at Work?
Yes, you can. If you were hurt at work due to someone's gross negligence, you could file a personal injury claim against your employer. This differs from a workers' comp claim, as it provides an opportunity to recover additional money for your injuries, including compensation for emotional distress.
Contact Schmitt Law Firm for Experienced and Competent Personal Injury Lawyers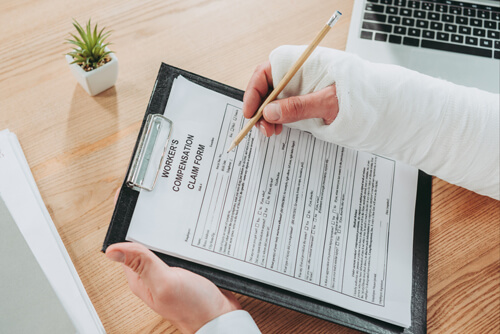 Having expert representation is crucial in the complicated legal world of workers' comp vs. personal injury. Our team at Schmitt Law Firm in Kansas City is dedicated to protecting your rights and ensuring you receive the compensation you deserve.
Schmitt Law Firm is here for you, whether you are faced with a personal injury case or a workers' compensation claim. With our expertise and commitment, we will guide you through the process and advocate for your best interests. Don't navigate this complex situation alone – contact us today at 816-400-1000 for a free consultation.